Attendee Forms
This page explains how to configure attendee forms. Forms can be used to collect information about the person purchasing the ticket, like T-shirt size or role in the company.
Defining a form
As the event organizer, you can define a form that attendees must fill out to get their tickets. For example, to request the role in the company:
Go to the edit page of your event.
Select the Features » Form tab.
Click the Add field button.

Introduce "Role in your organization" into the Field name input.

Select "text" into the Type drop-down.

Select Required.

Add other fields as needed. When you are done, click Save
Koliseo supports the following field types:
Text and Text Area for single-line or multiline free text.
Select to choose from a comma-separated range of values.
Number for an integer number greater or equal to zero.
Telephone.
Date.
E-mail.
Checkbox.
You can sort or delete fields using the buttons below each field. To save your changes, click the Save button at the top of the page.
Filling out the form
When an event includes a form, the ticket purchase page displays a set of input fields for each attendee. The attendees must fill out all fields marked as required to get their tickets.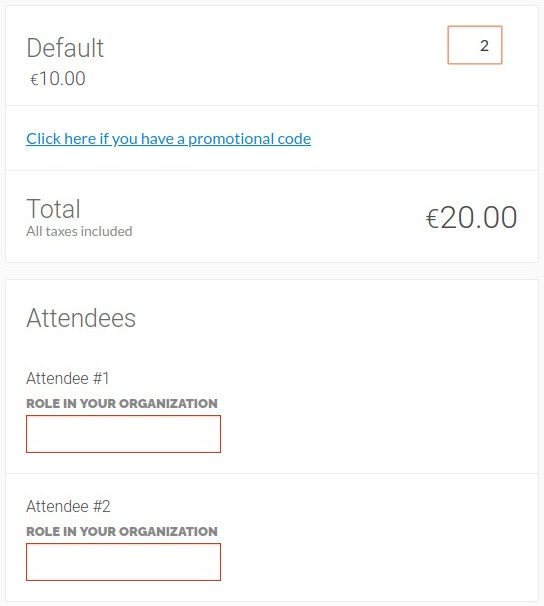 Collecting the form input
To get the list of form values introduced by attendees, download the list of tickets and open the downloaded file with a spreadsheet application. The form values are in the last columns of the spreadsheet.
What's next